Earlier this week I posted about the Chinese space station Tiangong-1, or Heavenly Palace mission.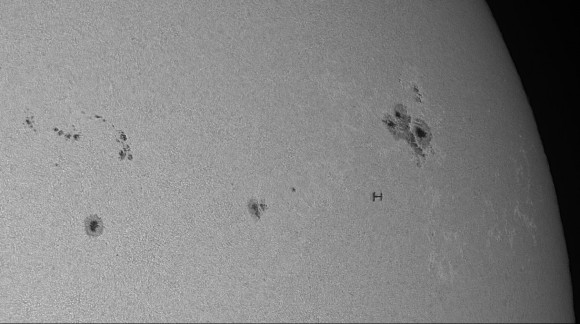 Copyright Thierry Legault 2013 all rights reserved.
Well, it appears that the Shenzhou-10 module has successfully docked with the space station.  Can you see the space station in another amazing image taken by fantastic transit photographer Thierry Legault.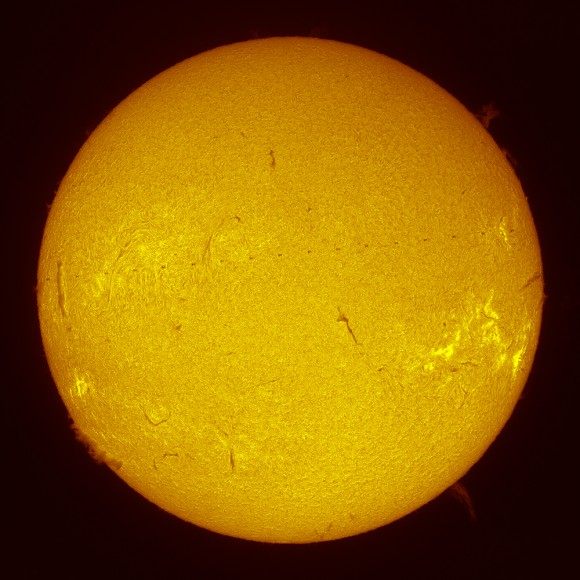 Copyright Thierry Legault 2013 all rights reserved.
Because of the speed of the orbiting space station, Thierry had less than half a second each to capture these two images of the Shenzhou-10 docked with the Tiangong-1 space station.  What is even more amazing is that each image was taken on two different days.
These images are even more impressive when you consider the size of the two objects and how far away they are from the surface.  The Tiangong-1 space station is about 34ft (10.4 meters) long and the Shenzou-10 is about 30ft (9.25 meters) long.   Together they are about 65ft long orbiting at around 225 miles (362 kilometres) overhead.  Pretty much like imaging  a needle in a haystack.
Thierry uses a program that I have not tried, CalSky, to calculate when and where to take  these amazing 1/2 second photos.  I think I will have to give it a try.  I have been using a program called The Photographer's Ephemeris (TPE) to plan my Moon, Sunrise and Sunset photographs and I highly recommend it as well.  You should add them to your arsenal of good tools for taking great shots.
– Ex astris, scientia –
I am and avid amateur astronomer and intellectual property attorney in Pasadena, California. As a former Chief Petty Officer in the U.S. Navy, I am a proud member of the Armed Service Committee of the Los Angeles County Bar Association working to aid all active duty and veterans in our communities. Connect with me on Google +
Norman