I have written before about the Air Force's program to track all the vast amount of space debris in orbit about our Planet.  The radar system that tracks thousands of objects orbiting Earth has been slated for shutdown due to budget cuts.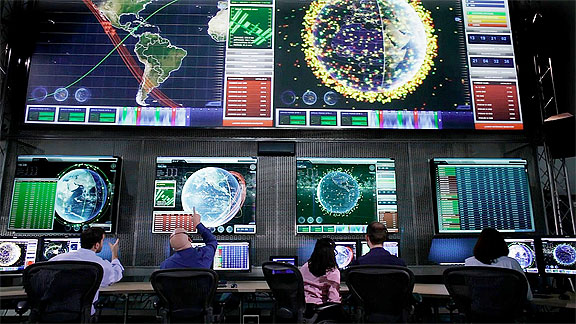 The ground-based network known as the "Space Fence" may cease to operate in October.
The shutdown is being blamed on the sequestration cuts and on a review conducted by the Pentagon to find areas of potential savings.  Although it doesn't seem like much, the across the board cuts are being felt everywhere.  My personal disappointment was the cancellation of the JPL open house this year.
However, the news isn't all that bad.  The current space fence is using equipment from the 1960's to track all the orbiting junk.  The Air Force is waiting to award a contract to build an updated version of the space fence system, but this plan too is been held up by budgetary problems.
So what exactly is the current system tracking?  According to NASA:  "More than 21,000 orbital debris larger than 10 cm are known to exist. The estimated population of particles between 1 and 10 cm in diameter is approximately 500,000. The number of particles smaller than 1 cm exceeds 100 million."
It would be bad day in orbit if you accidentally ran into some of this debris.
– Ex astris, scientia –
I am and avid amateur astronomer and intellectual property attorney in Pasadena, California and I am a Rising Star as rated by Super Lawyers Magazine.  As a former Chief Petty Officer in the U.S. Navy, I am a proud member of the Armed Service Committee of the Los Angeles County Bar Association working to aid all active duty and veterans in our communities. Connect with me on Google +
Norman