I wrote a while ago about the campaign to name one of Pluto's five moons "Vulcan."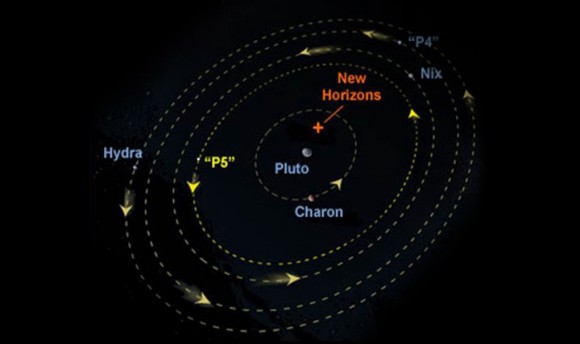 However, the International Astronomical Union has once again thwarted anyone else from participating in their closed group. 
So, Kerberos and Styx are the new names for Pluto's moons (formerly known as P4 and P5).  Although both names were popular in a public naming contest last year, they paled in comparison to the Captain Kirk (William Shatner) led vote for Vulcan.
Supposedly: "The IAU gave serious consideration to this name, which happens to be shared by the Roman god of volcanoes. However, because that name has already been used in astronomy, and because the Roman god is not closely associated with Pluto, this proposal was rejected."  
However, a quick search of the shows that Vulcan was a god of the underworld.  So, once again, the great IAU messes up.  Really, do we expect our scientists to do actual research, or have the forgotten their purpose.  This is a trend that worries as much as sound bite politics, high school graduates that can't make change at a register and the general destruction of language to to social media and the inability for those under 30 to make a complete sentence using grown up words instead of R U K?
Extremes on both side make me want to retire from humanity.
– Ex astris, scientia –
I am and avid amateur astronomer and intellectual property / patent attorney in Pasadena, California and I am a Rising Star as rated by Super Lawyers Magazine.  As a former Chief Petty Officer in the U.S. Navy, I am a proud member of the Armed Service Committee of the Los Angeles County Bar Association working to aid all active duty and veterans in our communities. Connect with me on Google +
Norman