Seeking to regain its relevance in the ever-changing world of social media, former giant MySpace may be able to rely on the momentum of a recent intellectual property victory over Apple. The Trademark Trial and Appeal Board recently denied Apple's bid to trademark its famous music icon after determining it was too similar to a mark already registered by MySpace. Both marks depict a double musical note in an orange rectangle.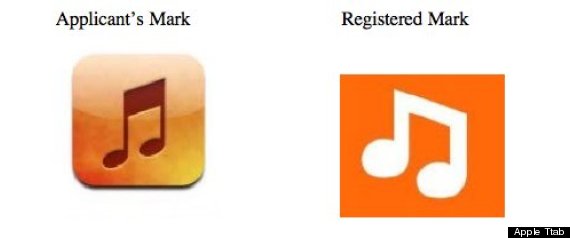 Using traditional "likelihood of confusion" analysis, the Board concluded that an average consumer would be unlikely to discern the marks. As explained in the decision:
In view of the facts that the marks are similar, the goods and services are related and are encountered by the same classes of consumers, we find that applicant's double musical note and design for "computer software [..]" is likely to cause confusion with the registered mark comprising a double musical note and design [..] for listening to MP3's and for sharing MP3's and music playlists with others.
The Board acknowledged that when placed side-by-side, certain differences between the two icons do exist. However, it was quick to note that "the test is not whether the marks can be distinguished when subjected to a side-by-side comparison, but rather whether the marks are sufficiently similar in terms of their overall commercial impression so that confusion as to the source of the goods and services offered under the respective marks is likely to result."
The Board also rejected Apple's argument that the trademark held by MySpace was weak because eight other trademarks using similar musical notes. Ultimately, the Board found that the Apple and MySpace marks had more in common than the other marks. The Board also cited the similarities in how the marks would be used. "Applicant's software and the registrant's services perform similar functions: controlling digital music," it noted.
Even powerful companies like Apple do not always come out on top in intellectual property disputes.  MySpace was victorious in this case because it was able to demonstrate a likelihood of confusion with its existing mark.
How Can I Help?
If you need help selecting or protecting your brand or trademark, or know someone that can use my help, please contact me for a free 30 minute consultation at nvantreeck@usip.com or call TOLL FREE at 1-855-UR IDEAS (1-855-874-3327) and ask for Norman.
– Ex astris, scientia –
I am and avid amateur astronomer and intellectual property attorney. As a former Chief Petty Officer in the U.S. Navy, I am a proud member of the Armed Service Committee of the Los Angeles County Bar Association working to aid all active duty and veterans in our communities. Connect with me on Google +
Norman